Model Train Layouts and Services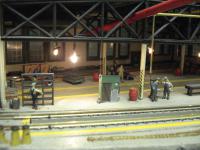 Getting started with the World's Greatest Hobby can be an overwhelming experience. For new modelers, the common question often begins with "Where to start with the wide variety of scales and manufacturers available?" With advancements in modern technology, coupling realism in the operation of your model railroad is as simple as pushing a button. Technological advancement brings locomotives to life with sounds and functions. From authentic locomotive whistles and lighting to realistic operations of engine and ground crew conversations, affordable ready-to-run systems truly place your hands on the throttle for never-ending enjoyment.
Recommendations of Where to Begin
The first stage in creating a model railroad is planning. Planning is truly the discussion of identifying the size, era, and operation specifics of the type of layout desired. Construction services are then tailored to individual skill sets of clients to immediately engage in the hobby based upon our clients' talents. This process eliminates disappointments or concerns associated with the various levels of construction techniques, wiring, or even scenery considerations.
When you have chosen a particular scale and location to model, it's time to choose a track plan that works for your model railroad. Track plans are available through various publications or can be created to fit a specific space. Choosing the right track plan simply begins with a rough sketch of ideas you like and then broadened within the operating space, budget, and scenery considerations. Keep in mind, your railroading is what you have either seen or have created for your needs. You can be as specific as necessary to provide the maximum realism for your system.
The objective of AER Rail Group is to provide high-quality products at discounted prices and professional service to our customers worldwide. We are proud of our repeat customers and the positive responses we have received from past customers. We hope you will become one of those satisfied customers.
We buy, sell and build a lot of model railroad items. We have a tremendous variety of items that are constantly changing in our online store. With over 75% of model railroaders purchasing supplies and equipment at the best prices available online, we eliminate the overhead and pass the savings on to our customers like you.
Our professional model train layout services really set us apart from just other resellers.
American Eagle Railroad Group creates customizable large and small layouts based on modular templates of our own design.
If you've always wanted to build your own railroad empire but the thought of bench work and wiring, have kept you from starting, or if traditional custom layout builders are just too expensive, then American Eagle Railroad Group is the perfect solution for you.