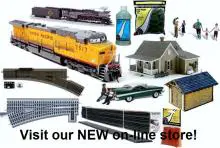 Our Model Railroad Store
At American Eagle Rail Group - we buy, sell and build a lot of model railroad items.  AER Group has a tremendous variety of items constantly changing. With over 75% of model railroaders purchasing supplies and equipment for the best prices available (on-line) we eliminate the overhead and pass the savings on to our customers like you.
Our goal at the The American Eagle Railroad Group is to provide customers with one resource for all of their model railroad needs.
Choose from our many Model Train Supply Categories at your left.
We offer custom model railroad construction and track plans in N Scale, HO Scale, S Scale, O Scale and G Scales.
Contact The A.E.R. Group at (859) 577-5007 today or send us an email using our Contact Form. Thank you!
Shop for Model Railroad Products
Showing 1–16 of 196 results

Based on a common prototype, Atlas' detailed HO Code 100 Plate Girder Bridge is now decorated for well-known railroads across the country. These bridges are made with the same high-quality…