Model Railroad Project Form
Our professional model train layout services really set us apart from just other resellers.
American Eagle Railroad Group creates customizable large and small layouts based on modular templates of our own design. If you've always wanted to build your own custom railroad empire but the thought of bench work and wiring, have kept you from starting, or if traditional custom layout builders are just too expensive, then American Eagle Railroad Group is the perfect solution for you. To help identify your level of need in designing a new Model Railroad Construction project, AER Group has this questionnaire to utilize as a starting block in making your model railroad dream come true. You can fill out the Getting Started Questionnaire below to get started today!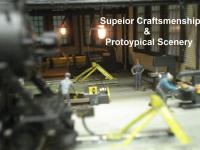 Note: Items marked with an asterisk (*) are required:
Your Information